PRESS RELEASE
Cos you can… ?
Cosmetic packaging and the science of vapour permeability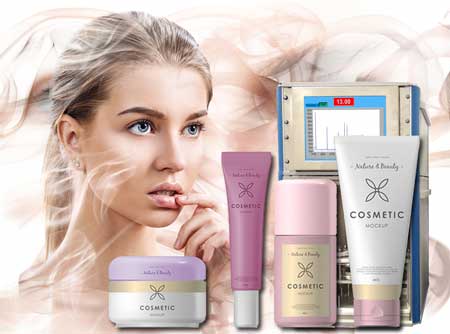 Click on the image to download a print quality scan

Cosmetic packaging has to achieve opposing things.  It must be practical, cost effective and beautiful at the same time as preventing highly volatile aromatic top-notes escaping, preventing atmospheric vapours seeping in and preventing moisture from escaping.  The tub, tube, or container must also limit the ability of microorganisms, such as bacteria and fungi, to seep in or develop.  These features often directly compete with each other and a material that is good in one area may be terrible in another.

Packaging cosmetics has become a science and the critical property is the vapour permeability of the container for each of the different vapours against all of the individual competing requirements.  And that's where Versaperm comes in with its new mass-spectrometry based vapour permeability measuring equipment which can measure all of them in just a single go – traditionally each vapour would require a separate test.

The Versaperm MS system allows you to test and develop a container's design, manufacture and materials.  Each vapour's permeability can typically be measured to PPM (Parts Per Million) accuracy with Parts Per Billion accuracy for some vapours and materials.

These can be measured this not just for standard materials, but also for laminated and compound constituents as well as finished, formed, filled and printed packaging.  Testing the finished cosmetic containers is particularly important as manufacturing processes such as moulding easily alter each vapour permeability by a factor of four.
Versaperm also offers a consultancy service and a permeability laboratory service for companies that only need to test samples on an irregular basis.


ENDS


Technical note:
Permeability regulates the way moisture, oxygen and other vapours are kept in or out by the container and this, for example, regulates the cosmetic's delicate unsaturated lipid bonds, which easily turn rancid creating unpleasant smells.  It also helps to prevent the growth of the micro-organisms that degrade the product and reduce quality. 
Please send any sales enquiries to Christopher Roberts, Versaperm Limited ,
10 Rawcliffe House, Howarth Road, Maidenhead, Berkshire, SL6 1AP, UK, Tel: +44 1628 777668,
e.mail info@versaperm.co.uk Web http://www.versaperm.co.uk
For further Press Information please contact Gerry Palmer @ the Palmer & Rose Partnership. Tel 01494 637499, fax 0871 900 3898 e.mail gerry@palmer-rose.co.uk.