PRESS RELEASE
Paper coating defects - A vapour permeability problem and a solution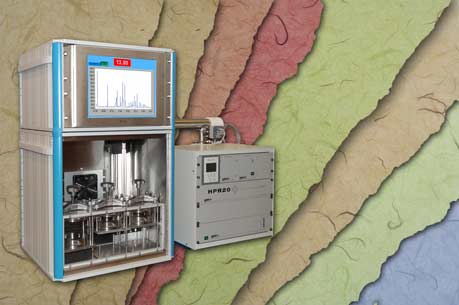 Click on the image to download a print quality scan
The barrier resistance and wettability of paper give rise to almost all of its principal features – from print quality right the way through to texture and strength. To achieve the desired results an enormous range of coatings can be applied – but the problem is that they commonly don't match their specifications – and can easily be out by 500% or more due simply to coating defects such as foam streaks, pinholes and pits. This is particularly true with the modern, environmentally sensitive, biopolymer coatings
The only way to measure or quality control this is through vapour (usually water vapour) permeability testing.  Versaperm, a world technology leader in the area for over twenty years, has introduced a range of dedicated solutions based around its latest permeability coatings equipment and sensor range.
The systems are fast, very accurate and easy to use.  their computerised control means that they requires, at most, minimal training to produce results that are accurate in the Parts Per Million (PPM) range, or even Parts Per Billion (PPB) for some applications.
The physical characteristics of papers or card materials are primarily created by the coating's vapour permeability.  Versaperm systems are capable of testing the vapour permeability of up to six coatings, samples, components or products at a time, sometimes in as little as 30 minutes. 
The equipment can optimally measure permeability not just with respect to water vapour but for almost any other gas or vapour.  In addition to coatings it can be used to measure the permeability of films, laminates, foils and even finished cartons. As well as manufacturing the instruments, Versaperm offers laboratory and consultancy services for companies that only need to test samples on an irregular basis.             
ENDS

Please send any sales enquiries to Christopher Roberts, Versaperm Limited ,
10 Rawcliffe House, Howarth Road, Maidenhead, Berkshire, SL6 1AP, UK, Tel: +44 1628 777668,
e.mail info@versaperm.co.uk Web http://www.versaperm.co.uk
For further Press Information please contact Gerry Palmer @ the Palmer & Rose Partnership. Tel 01494 637499, fax 0871 900 3898 e.mail gerry@palmer-rose.co.uk.