PRESS RELEASE
The Eye of the Beholder Oxygen permeability testing for contact lenses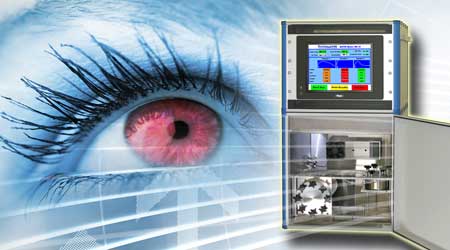 Click on the image to download a print quality scan
The important part of eye comfort and health for contact lens wearers is probably not, as many adverts seem to imply, simply having a high moisture content, but is critically related to the vapour permeability of the lens – and in particular the oxygen (O2) vapour permeability of the material it uses.
So  vapour permeability expert Versaperm has introduce two highly accurate new testing services for manufacturers to measure and quality control this fundamentally important value.  Both polarographic and coulometric measurements are available to cater for the entire range of hydrogel and other materials used.  Comfort, wearing time and corneal wellbeing depend critically on oxygen permeability for all of the different types of contact lens and corneal health concerns demands accurate results.

The Versaperm equipment measures the oxygen vapour permeability of both contact lenses and flat samples of a lens' material.  Additionally, several lenses or samples can be measured at one and the same time.  Accuracy is in the PPM (Parts Per Million) range and the system is ideal for materials with oxygen permeabilities from 0 to well over 200 Dk. 

The tests are compliant with the needs of ISO 18369-4.

Measurements can be made on soft, silicone hydrogel, PMMA, gas permeable (RGP) and hybrid contact lenses.   RGP lenses provide better vision, durability, and deposit resistance than soft contact lenses and also, as they last longer they tend to be less expensive over time.  However it usually takes wearers longer to adjust to rigid lenses although they are generally felt to be as comfortable after that time.

As well as supplying equipment to laboratories, including standards laboratories around the world, Versaperm provide laboratory testing services across a huge range of permeability applications and vapour permeability values.
ENDS

Please send any sales enquiries to Christopher Roberts, Versaperm Limited ,
10 Rawcliffe House, Howarth Road, Maidenhead, Berkshire, SL6 1AP, UK, Tel: +44 1628 777668,
e.mail info@versaperm.co.uk Web http://www.versaperm.co.uk
For further Press Information please contact Gerry Palmer @ the Palmer & Rose Partnership. Tel 01494 637499, fax 0871 900 3898 e.mail gerry@palmer-rose.co.uk